At Olympus Group companies worldwide, Our Purpose, Our Core Values, and Our Behaviors are the three pillars of our corporate philosophy. Our Purpose is to make people's lives healthier, safer, and more fulfilling. That responsibility is always front and center. It influences everything we do.
Our work is guided by our shared Core Values focused on Integrity, Empathy, Agility, a Long-term View, and a sense of Unity. We're in this together, as employees, collaborators, and a global society.
As we strive to deliver strong business results, how we achieve those results is equally important. Being true to our customers, our environment, and our company, and respecting each other are the fundamental expectations of every Olympus employee and business partner.
We are also committed to a culture of compliance, which is fully supported by our senior management. We foster this culture with clear and consistent policies, compliance training, and open communication channels. We respond quickly to concerns and identify risks, administering corrective action when appropriate.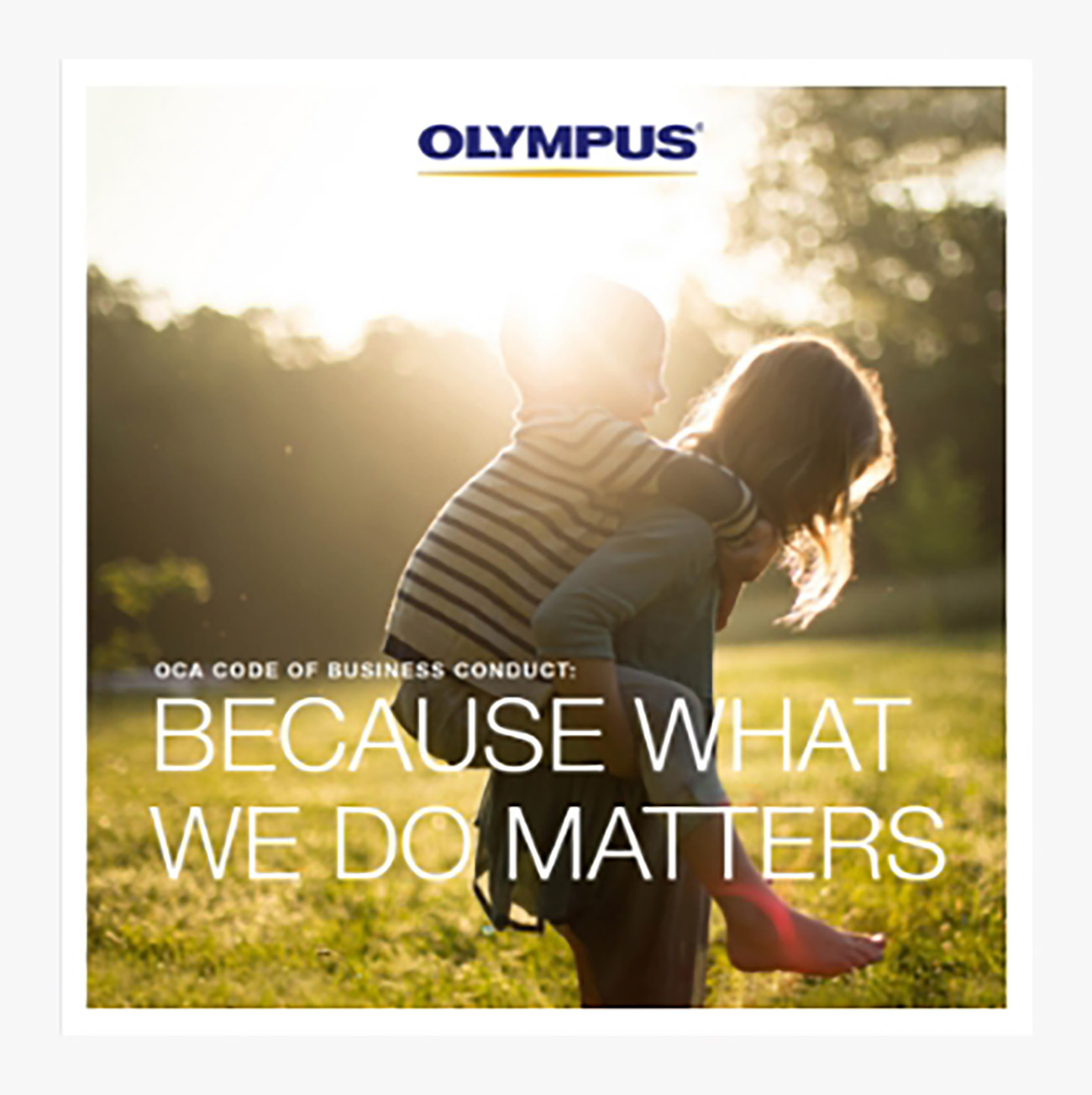 Olympus Corporation of the Americas'
Code of Business Conduct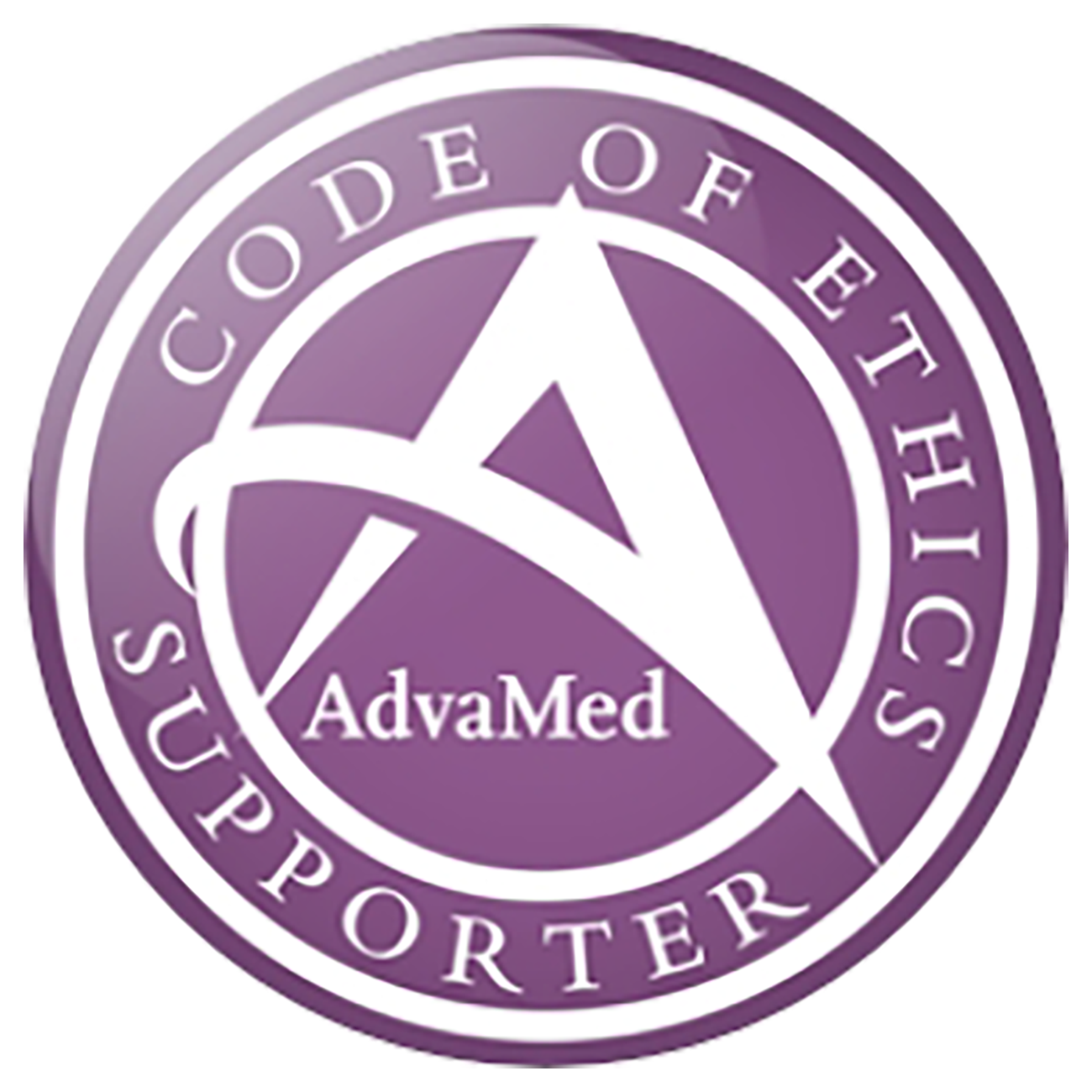 At Olympus, we strive for ethical and compliant behavior. Every Olympus representative (including company personnel and agents) has a duty to report any actual or suspected violations of any laws, regulations, government healthcare program requirements, internal policies and procedures, or inappropriate actions. To ensure that allegations of improper or illegal conduct, activities, or practices are heard and addressed, OCA maintains the Integrity Line—an anonymous, confidential reporting system maintained by Ethics Point, a third-party provider.
Employees, customers, business partners, and third parties may make reports to the Integrity Line 24 hours a day, 7 days a week, every day of the year, by phone or online. Ethics Point provides multi-lingual line support and translation services.
All reports submitted to the Integrity Line are treated with discretion. Reporters also have the option of remaining anonymous and will be assigned a unique, private code (a report key) in the Ethics Point system.
In addition to the Integrity Line, we welcome reporting concerns about unethical or unlawful conduct directly to Olympus Management, Human Resources, the OCA Legal Department, or the OCA Compliance Department. The OCA Compliance Department can be reached directly via phone at 484-896-4472 or via email at compliance@olympus.com. Company policy prohibits retaliation against any individual for reporting concerns to the Integrity Line or directly to Management in good faith.
Integrity Line:
U.S., Canada & Puerto Rico: 1-844-277-1698
Canada-French: 1-855-350-9393
Costa Rica: 0800-011-1248
Mexico: 001-855-232-1301
Brazil: 0800-892-0649
http://olympus.ethicspoint.com
Compliance Department:
484-896-4472 or via email at compliance@olympus.com
Company policy prohibits retaliation against any individual for reporting concerns to the Integrity Line or directly to management in good faith.

---
Open Payments Reporting
Open Payments is a U.S. national disclosure program created by the Affordable Care Act that increases public awareness of financial relationships between the healthcare industry (like medical device manufacturers and pharmaceutical companies) and physicians or teaching hospitals. Accordingly, at Olympus, we are required to report payments or transfers of value we make to U.S. physicians or teaching hospitals. The Centers for Medicare & Medicaid Services (CMS) collects this data annually and makes it publicly available and searchable online.
You can use the CMS Open Payments Data search tool to search for information regarding payments made by Olympus to U.S. doctors or teaching hospitals. You can download all Open Payments data in detail, or search based on the physician or teaching hospital receiving the payment, or the company making the payment. Additional information on Open Payments is available on the CMS website.
Any questions/inquiries regarding the Olympus Open Payments report can be directed to AggSpend@olympus.com.
---
Reportable Payments & Transfers of Value
At Olympus, we collaborate and interact with healthcare providers to advance new, safe, and effective medical technologies that lead to improvements in patient care. We value our relationship with healthcare providers and are committed to the transparency afforded by Open Payments Reporting. The Olympus Open Payments report includes the following types of transfers of value we make to physicians and teaching hospitals:
Compensation paid to healthcare professionals for services performed for Olympus
Educational items (e.g., medical textbooks, scientific journal articles)
Food, beverage, travel, and lodging relating to consulting services, product training, and other business-related activities
Education on the use of our products and related treatments
Research on new products to help advance patient care
Charitable contributions
Royalties or license payments
Grants to support independent healthcare education
Space rental or facility fees associated with product training, clinical studies, or booth/exhibit space
---
California Compliance Law
At Olympus, we are committed to conducting business ethically and in compliance with all applicable laws, regulations, guidelines, and policies.
Statement regarding compliance with California Health and Safety Code § 119402
At Olympus, we have established and are operating in accordance with a Comprehensive Compliance Program (CCP). Because Olympus is a medical device manufacturer and not a pharmaceutical manufacturer, certain guidance set forth in the PhRMA Code on Interactions with Health Care Professionals and the Office of Inspector General (OIG) Compliance Guidance for Pharmaceutical Manufacturers does not apply to Olympus and our operations. Consistent with this, we are making good faith efforts to conform our Olympus CCP to applicable requirements of Sections 119400-119402 of the California Health and Safety Code and will generally follow the Code of Ethics adopted by the Advanced Medical Technology Association (AdvaMed).
To obtain a print version of this document, please contact Olympus' Integrity Line at 1-844-277-1698 or email compliance@olympus.com.