Endoscopy Leader Continues Expansion of its Endoscope Storage Portfolio with Protective Storage and Contaminant Removal Solution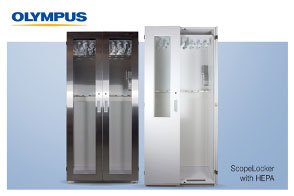 Olympus expands endoscope storage portfolio with the introduction of ScopeLockerTM with HEPA, a protective storage and contaminant removal solution.
CENTER VALLEY, Pa., (Januarry 6, 2021) – Olympus today announced the introduction of a new endoscope storage cabinet, the ScopeLockerTM with HEPA hinged door endoscope storage system ("ScopeLocker with HEPA"). This line expansion of Olympus' infection prevention offering addresses a rapidly shifting environment in the gastrointestinal (GI) field, such as facilities being redesigned in response to COVID-19 impacts in their health system or region, or ambulatory surgery centers (ASCs) being forced to adjust quickly to respond to sudden shifts in demand. The ScopeLocker with HEPA hinged door endoscope storage system advantages include:
Protects endoscopes while providing features that address the efficiency needs of busy facilities
Provides increased durability against the effects of wear and tear
May be used with ChanlDry Drying cabinets as an effective combination for endoscope drying and storage.
"Busy endoscopy facilities have a range of needs," said Carolyn Klimas, Executive Director, Infection Prevention Products and Software. "Our goal is to provide solutions for the uniqueness of each facility, which must weigh case volume, workflow and space considerations into decision making about endoscope protection and storage, all while continuing to maintain infection prevention as their topmost concern."
Designed and manufactured in the U.S. by MASS™ Medical Storage exclusively for Olympus, the ScopeLocker with HEPA hinged door endoscope storage system is specifically designed with infection prevention in mind. The ScopeLocker with HEPA helps medical facilities strive towards impeccable infection control, in accordance with society guidelines, such as the AORN recommendation that endoscopes should be hung vertically with the distal tip hanging freely in a well-ventilated, clean area, following the endoscope manufacturer's written IFU for storage.i SGNA indicates that endoscopes must be stored in an area that is clean, well-ventilated and dust-free in order to keep the endoscopes dry and free of microbial contamination.ii Leaving a scope coiled in a horizontal position for a long period of time can cause the components to be under unnecessary strain and could be contributing to insertion tube buckling and potential angulation issues.
Correct storage of an endoscope "prevents damage to its exterior by protecting it from physical impact."iii
The ScopeLocker with HEPA hinged door endoscope storage system:
Protects while providing controlled storage
Features the Secure-A-Scope System and separator rack, providing rotating hooks for easy hanging, separation of endoscopes and easy access
Enables at-a-glance endoscope availability
Features padded lower walls that protect delicate endoscope tips from damage
Enables vertical hanging, which maintains shape integrity and helps prevent insertion tube buckling
Provides a controlled storage solution that fits well with an overall infection prevention strategy

Prevents recontamination during storage by continually blowing fresh, HEPA-filtered air around endoscopes
Captures 99.97% of particulates in a .3 micron filter, removing potential contaminants from the storage cabinetiv
Creates positive pressure inside the storage cabinet, which helps keep contaminants out
Replaces cabinet air every two minutes
Features a HEPA filter with a built-in fan that circulates air throughout the cabinet
Features endoscope holders free of welds, glues or cavities that could promote bacterial growth
Customers interested in the ScopeLocker with HEPA hinged door endoscope storage system should contact their Olympus sales representative, or Olympus customer service at 1-800-848-9024.
# # #
About Olympus
Olympus' Medical business uses innovative capabilities in medical technology, therapeutic intervention, and precision manufacturing to help healthcare professionals deliver diagnostic, therapeutic, and minimally invasive procedures to improve clinical outcomes, reduce overall costs, and enhance the quality of life for patients. Olympus' Medical portfolio includes endoscopes, laparoscopes, and video imaging systems, as well as surgical energy devices, system integration solutions, medical services, and a wide range of endotherapy instruments. For more information, visit medical.olympusamerica.com.
i AORN Guideline For Processing Flexible Endoscopes -Revised February 2016 for publication in Guidelines for Perioperative Practice, 2016 edition.
ii Society of Gastroenterology Nurses and Associates, Inc. (SGNA) - Standards of Infection Prevention in Reprocessing of Flexible Gastrointestinal Endoscopes, 2015 ed.
iii Source: https://www.infectioncontroltoday.com/view/safeguard-your-scopes-tips-minimize-scope-repairs-and-maintain-reprocessing.
iv Source: Certificate of Compliance as packaged with each tested and shipped MASS Medical HEPA filter.