Endoscopy equipment used to diagnose and treat cancer to be part of My Body Exhibit Gallery set to open in 2024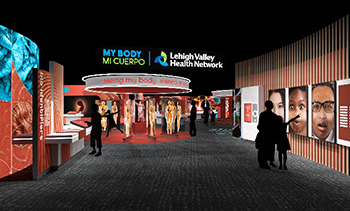 Olympus announces its sponsorship of an exhibit as part of the LVHN My Body Exhibit Gallery inside the DaVinci Science Center at PPL Pavilion
CENTER VALLEY, Pa. (April 25, 2022) — Olympus Corporation of the Americas announced today its sponsorship of an exhibit inside the DaVinci Science Center at PPL Pavilion slated to open in 2024 in Center City Allentown, Pa. The company's 10-year commitment to this new educational center in the Lehigh Valley will support an exhibit exploring how Olympus endoscopy products work to diagnose and treat diseases, such as colorectal and lung cancer.
This exhibit will be part of the larger Lehigh Valley Health Network (LVHN) My Body Exhibit Gallery, an exhibit that will help visitors celebrate the human body, explore how it works and consider how to keep it healthy. The LVHN My Body Exhibit Gallery will feature a larger-than-life immersive human body experience that explains how the body works and how to keep it healthy. The gallery contains multiple components, and the Olympus interactive portion will show visitors how an endoscope travels through the body and helps detect and diagnose different diseases.
In addition to the exhibit, Olympus plans to sponsor TEAM Learning Center programming in a future phase of the DaVinci Science Center at PPL Pavilion.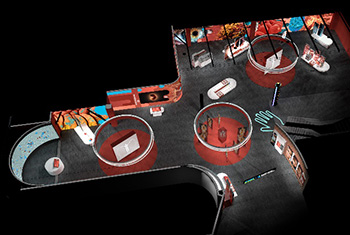 A bird's eye view of the LVHN My Body Exhibit Gallery
"We are thrilled to support the educational resources at the new DaVinci Science Center at PPL Pavilion and to contribute to the ongoing renaissance of Center City Allentown," said Julien Sauvagnargues, President of Olympus Corporation of the Americas. "The exhibit and learning center will inspire young minds and help educate visitors about the importance of being proactive about their personal health. It will also highlight the pioneering work of Olympus."
Scheduled to open its doors in 2024, the 67,000-square-foot DaVinci Science Center at PPL Pavilion at Hamilton and North Eighth streets in Center City Allentown will contain 30,000 square feet of exhibit space. This center aims to attract about 400,000 visitors annually from a 50- to 100-mile radius, including an estimated 50,000 people that live within 1 square mile of downtown Allentown.


###

About Olympus
Olympus is passionate about creating customer-driven solutions for the medical industry. For more than 100 years, Olympus has focused on making people's lives healthier, safer and more fulfilling by helping to detect, prevent, and treat disease; furthering scientific research; and ensuring public safety.
As a leading medical technology company, Olympus uses innovative capabilities in medical technology, therapeutic intervention, and precision manufacturing to help healthcare professionals deliver diagnostic, therapeutic, and minimally invasive procedures to improve clinical outcomes, reduce overall costs, and enhance the quality of life for patients and their safety. Olympus' Medical portfolio includes endoscopes, laparoscopes, and video imaging systems, as well as surgical energy devices, system integration solutions, medical services, and a wide range of endotherapy instruments for endoscopic and therapeutic applications. For more information, visit https://medical.olympusamerica.com.