Best Birthday Gift Ever: A Clean Bill of Health
John Barnum shares his positive spin on a colonoscopy
Ask John Barnum, Senior Product Manager in Respiratory Marketing at Olympus, to share pictures from the milestone event marking his 45th birthday. He has a few of them and has even used them as a Microsoft Teams background in virtual meetings. They are images of his colon from his first colonoscopy, and he couldn't be more proud as he pauses to identify the cecum and other anatomical locations; knowledge he garnered from his previous experience marketing the Olympus EndoCapsuleTM Platform.
"I didn't care what it took. I called the [doctor's] office on my 45th birthday and said, 'I'd like to schedule my colonoscopy, I'm 45 today!' I was looking forward to it."
I Was Looking Forward to It
If John sounds a little enthusiastic about the procedure, he has his reasons. Working at Olympus for 18 years is part of it. "I'm very much aware of the GI anatomy and the importance of colonoscopies." And while he's seen hundreds of them, it was now his turn on the table.

John doesn't have a family history of colorectal cancer (CRC). A previous endoscopy procedure confirmed he has celiac disease, which while not associated with CRC, is linked to rare cases of lymphomas and adenocarcinoma of the small intestine.1
He also has some personal "catching-it-in-time" screening stories, albeit not CRC-related. He recalls his wife's routine Pap smear, resulting in a procedure to successfully treat a precancerous cervical condition. In addition, his mother-in-law's routine mammogram uncovered early-stage breast cancer for which she was successfully treated.
Then there's the sting of a "catching-it-too-late" story—as a good friend of John's succumbed to breast cancer at the age of 50—and there was speculation of whether a routine mammogram could have found the cancer sooner and saved her life.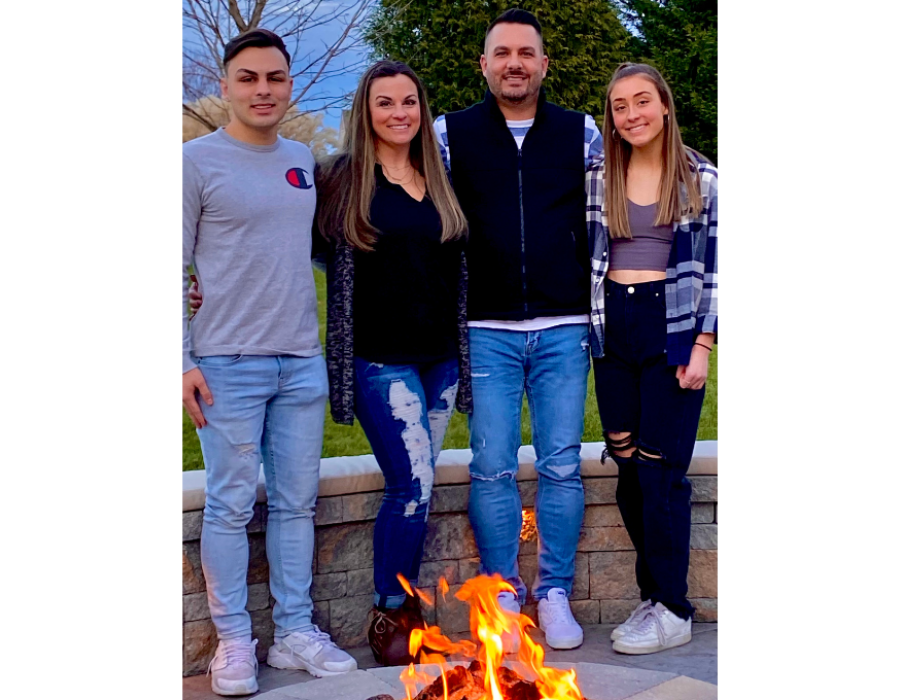 John Barnum and his family.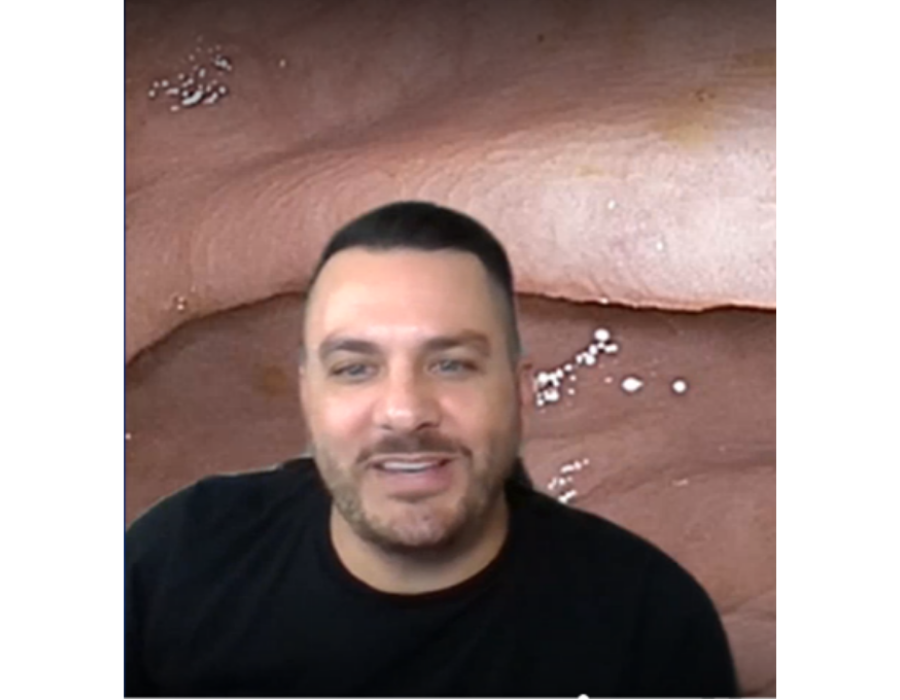 John Barnum uses an image of his colon, taken during his first colonoscopy, as a Teams background to advocate for routine colonoscopy.
Misconceptions and Stigmas
But John is inspired to tell his story to celebrate and advocate for good health. Sharing a positive experience can help to correct misconceptions and erase stigmas.

"Unfortunately, I think many people are still fixated on this being an older person's disease." This misconception is despite the U.S. Preventive Services Task Force guidelines which lowered the screening age to 45 from 50 for individuals at average risk. "And with men, I think there's a stigma around that area of the body. It's uncomfortable and you feel weird about the whole thing."

But with the routine nature of the procedure comes experienced doctors and nursing staff that are typically unfazed. You may be self-conscious, but as he points out, "They've seen it. There's nothing to be embarrassed about. It's a clinical procedure, even though you've got your rear end out."
As for the unpleasant perceptions of exam prep, John notes, "They say the prep is the worst part. To me, the prep wasn't that bad," he says of the dietary restrictions and colon cleansing routine before the exam. "It wasn't the greatest thing in the world, but once you get cleaned out you feel pretty good." He experienced post-procedure dehydration and would advise those prepping to drink more liquids a few days beforehand, but otherwise, "It wasn't terrible."

For more tips on colonoscopy prep, see "Prep School" below this post.

I Don't Remember It!
On the day of the exam, he says, "I was given all the instructions I needed and felt really good going into it." He can share little else about the procedure after he was sedated in the procedure room. "I woke up to my wife saying, 'Honey, you're all done,'" in the recovery bay. John added that the doctor used CO2 gas as opposed to regular air to insufflate the colon, which is more commonplace now to reduce patient discomfort. "I had no pain. I felt wonderful afterwards. I had the best nap of my life. I woke up and had a clean bill of health. I was super happy."

Not a bad way to mark a milestone birthday.
Why Share This?
"I've learned early in life that screening for these preventable diseases actually makes a big difference," says John. "I need to do all that I can do to be here for my loved ones." What's more, colonoscopy is off of his to-do list for 10 years, based on the evidence-based guidelines for those at low risk.

His advice to procrastinators? "Just check it off your list. What are you waiting for? Get it over with. Whatever misconceptions you have about what it might be like, it's not nearly as bad as you might think." And if everything checks out, "You don't need to go back for another 10 years."

Need more of a nudge? Get the facts:
Prep School
Colonoscopy prep can vary. And while it may sound dreadful to some people, it is essential to do before a procedure. After you schedule your colonoscopy, you should receive prep instructions from the doctor's office. Be sure to consult them as soon as you can, so that you know the drill on food restrictions, bowel prep, clear liquid consumption, and when to begin fasting before the exam.
These sources may provide some help and tips for items to have on hand:

From Colonoscopy Today, check out About Colonoscopies | Colonoscopy Today
From Harvard Health, read "Preparing for a colonoscopy: Diet, tips and instructions for a smooth colonoscopy prep"
From the Colon Cancer Coalition, read "How Not to Dread a Colonoscopy: 3 Tips to Make the Test More Comfortable"
From Fight Colon Cancer, read "8 Expert Tips for the Night Before"