Building the Future
Olympus Partnership with Building 21 High School Inspires Products and Services that Bring About Positive Change
Article By: 


Brynne Wacker
Public Relations Intern
Summer 2021
When the COVID-19 pandemic struck in March 2020, many of Olympus' community impact initiatives transitioned to virtual methods, ensuring that our partnerships remained intact but safe for all parties involved. Plato once said the "necessity is the mother of invention," which certainly held true in a recent STEM program developed and executed by Olympus, Communities in Schools of Eastern PA, and Allentown School District's Building 21 High School.
Together, the Olympus Emerging Professionals CAN (Colleague Affinity Network), Heather Annunziata, Building 21 Communities in Schools (CIS) Site Coordinator, Kristyn Ryan Senneca, Partnership Coordinator, and Melissa Routson, Mathematics Teacher at Building 21 high school partnered to create a program for students enrolled in their Engineering and Design course. Building 21 high school focuses on engaging students with their unique curriculum and career prep opportunities, which was the perfect connection for the Olympus Emerging Professionals CAN who prioritizes initiatives that aim to inspire the next generation of business leaders.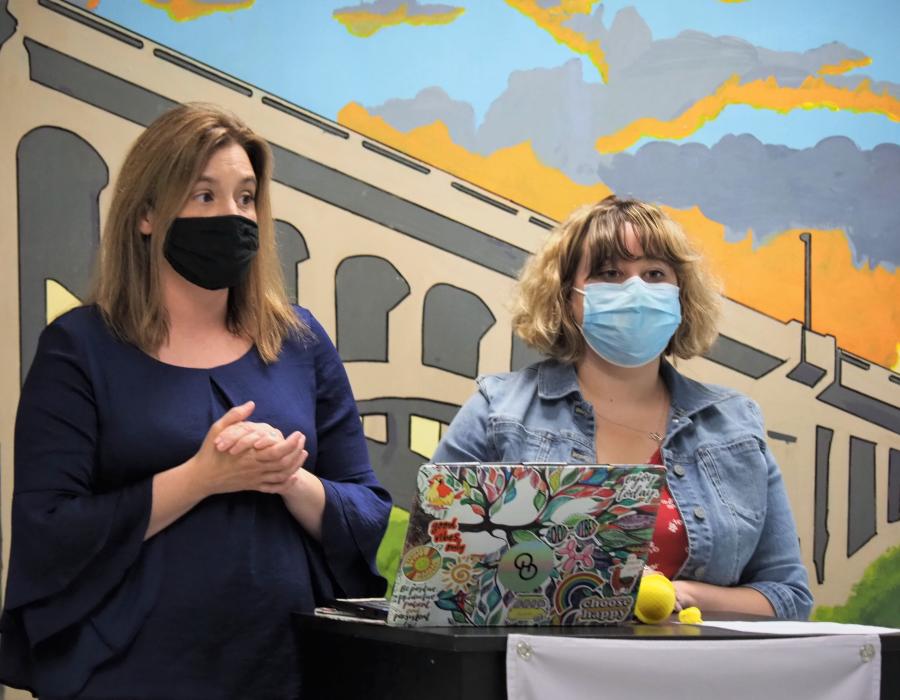 This virtual program allowed for Olympus mentors to teach twenty students at Building 21 high school about different departments within Olympus. Students were able to hear directly from Olympus employees working in research & development, manufacturing, supply chain management, marketing, public relations, sales, data & analytics, community affairs, and engineering to learn about their education and career paths, job responsibilities, and key strategies of their business functions.

Additionally, the mentors guided students on a project where they first learned about the UN Global Compact's 17 Sustainable Development Goals, a universal call to action to end poverty, protect the planet, and bring peace and prosperity to all people by 20301. The students then chose one goal they were passionate about to create a unique solution, culminating in a presentation at the end of the program.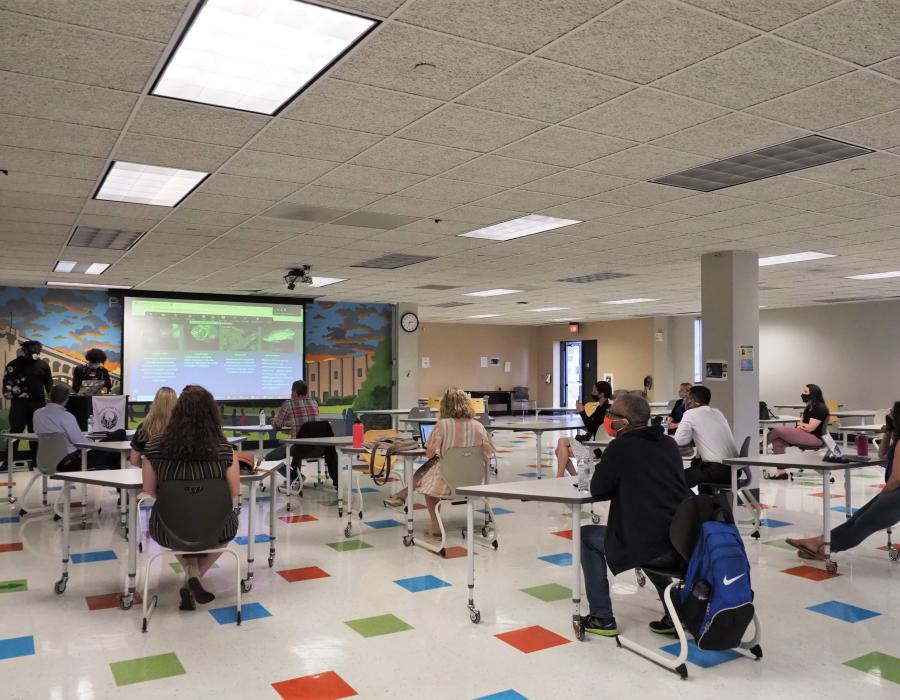 After a few months of hard work and collaboration, Olympus employees as well as Building 21 staff gathered safely in person and virtually via Zoom to listen to students present their innovative resolutions and hard work on their projects.

Three students – the group was five students, but three presented in person – started the presentations speaking about their topic of gender equality. For their solution, they constructed an educational website informing the public about topics of gender inequality such as the wage gap, objectification of women, and other matters relating to this subject.
As three male students, Daniel, Felipe, and Emmanuel, passionately presented this to the group, many audience members were curious why they chose the subject of gender inequality.

"This is important because women in the world have been harassed and treated differently," said one of the group members. "The research was the most mind-boggling to see the inequalities. This may be something small right now, but we can make it much bigger."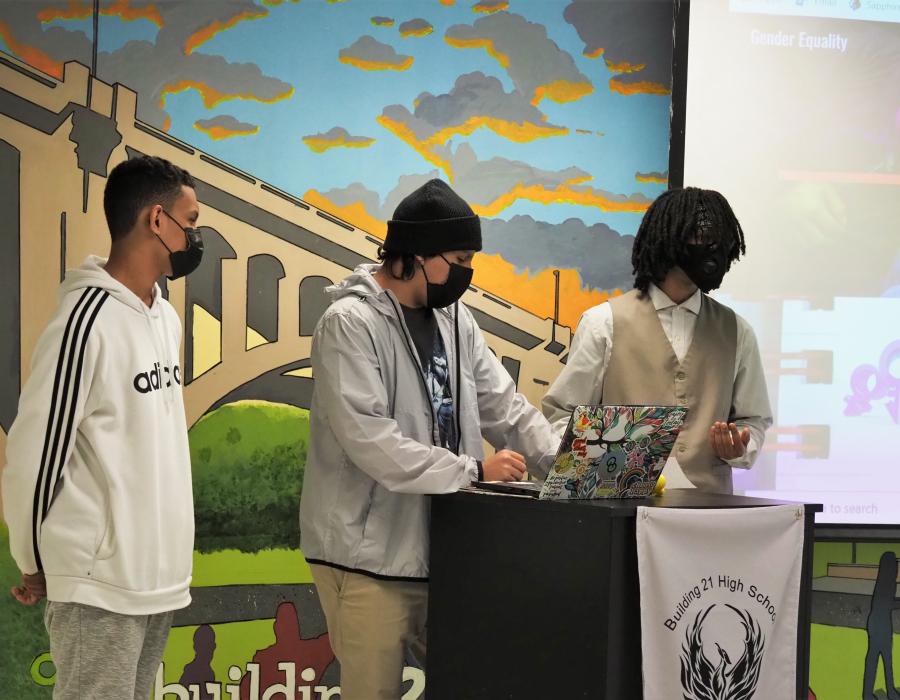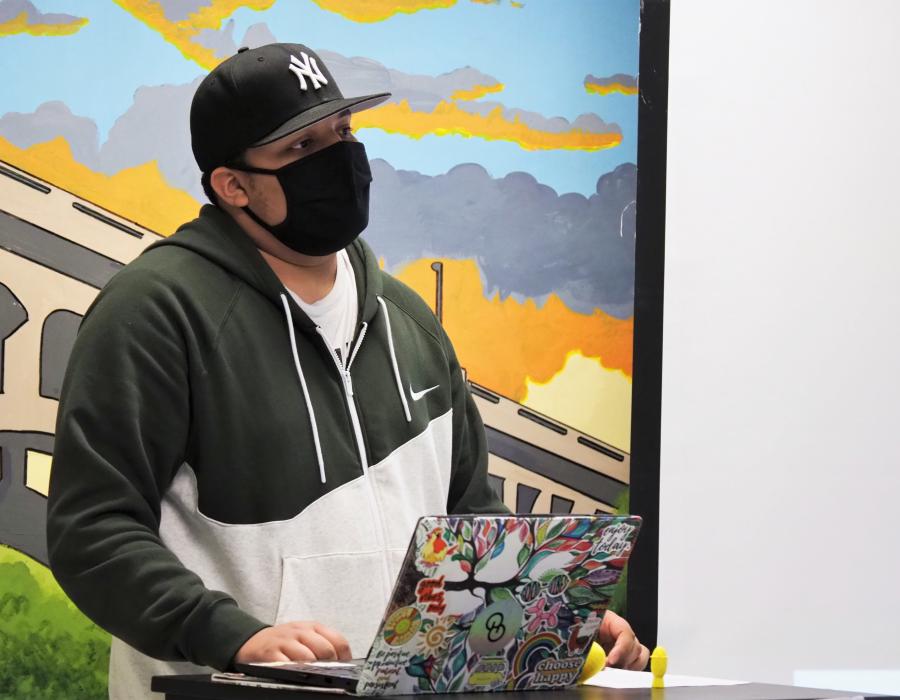 The next student, Jayden, presented his project on the importance of quality education for future generations. He explained to the audience that his passion for this subject comes from personal experience. When he was struggling in school it was a very unpleasant experience, but when he had supportive teachers and a constructive curriculum, he was able to get the help he needed for a successful learning environment. The staff at Building 21 was extremely excited by this idea and eager to make a feedback form for students at their own school to ensure a quality education, all inspired by Jayden's great work.
The next presentation by students Jeremiah and Edwardo focused on life below water. These two students created a website to provide education about the harm of overfishing and a tracker for endangered fish species, so individuals know what fish need to be protected. Additionally, Jeremiah and Edwardo took their project one step further and created a model of a submarine that they 3D printed in three different sizes and are selling to raise money for pollution prevention in waterways. These students explained why they picked this topic stating, "We are going to bring fish to extinction for no reason, so we need to help this. Pollution going into the ocean is also very bad and we want to stop this too."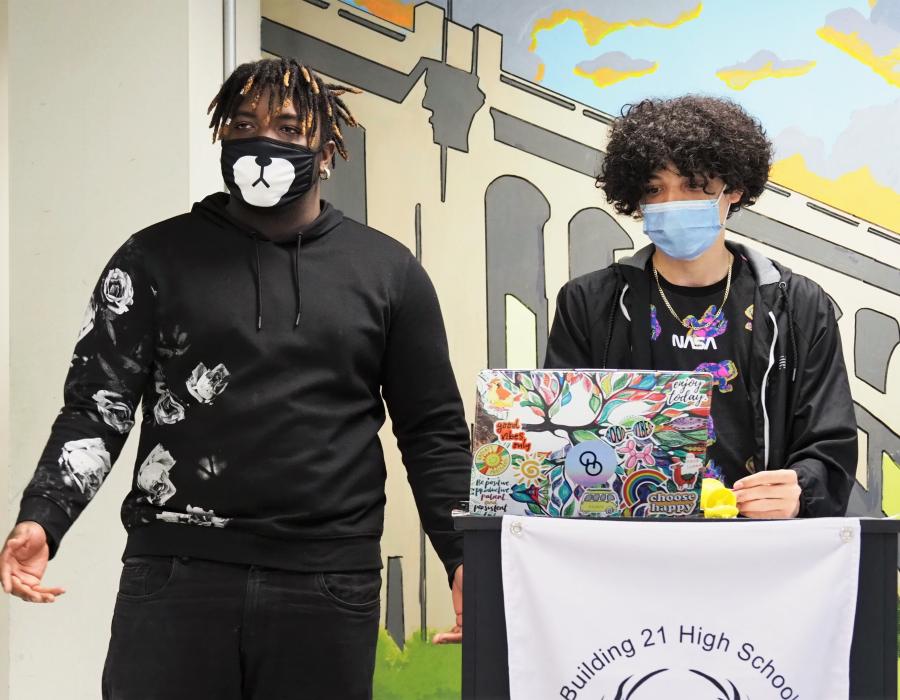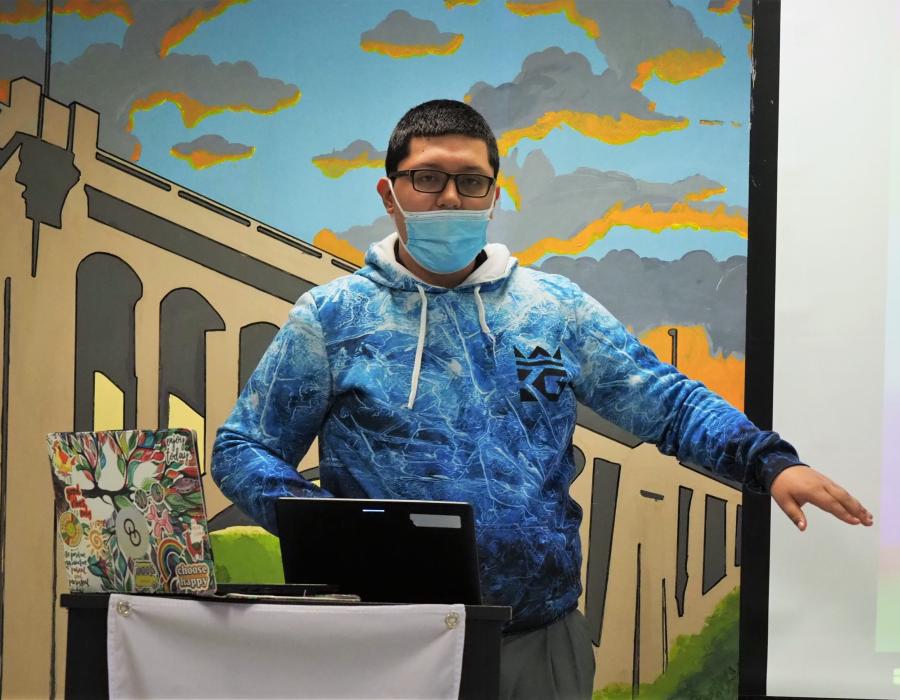 To wrap up these exciting presentations, a student named Jefferson presented his idea about quality education through designing his ideal classroom. Jefferson used the software Roomstyler to make a virtual tour of what his idea would look like. He walked the audience through his design explaining why each component of the classroom would make students feel comfortable, yet productive. Jefferson saw students having a difficult time learning during COVID because of their environments at home, so he was inspired to create an effective space for their return to the classroom. "I think students should have a good environment and enjoy themselves," says Jefferson, "so they can feel good about themselves and work at their maximum."
When all of the students concluded, the smiles in the Building 21 room were ear to ear. Both students and Olympus employees alike were so grateful for this experience, having the opportunity to form relationships and make an impact in the local community during a time that was not easy to do so.

"I was heavily involved with 'shark tank' type initiatives in college and from the mentor side it was amazing seeing young students walk through this same process, finding a topic that intrigues them, digging deeper to see what the true problems are, and how we can approach solving it," said Karlynn Miller, Associate Project Manager for Transformation and Operational Excellence and Building 21 mentor. "The virtual nature of the first half of this semester didn't stop them from creating great solutions, and I was so impressed by all the groups presentations!"
With the three pillars of the Building 21 high school being Passion, Power, and Agency, this program was successful in embodying these principles. Building 21 school leader, Jose Rosado, Jr. stated after the presentations, "The presentations aligned with exactly what we instill in the students at this school, and we cannot thank everyone enough for their involvement."

Not only did this program align with the pillars of Building 21, but it simultaneously reflected Olympus' Core Values and mission of making people's lives healthier, safer, and more fulfilling.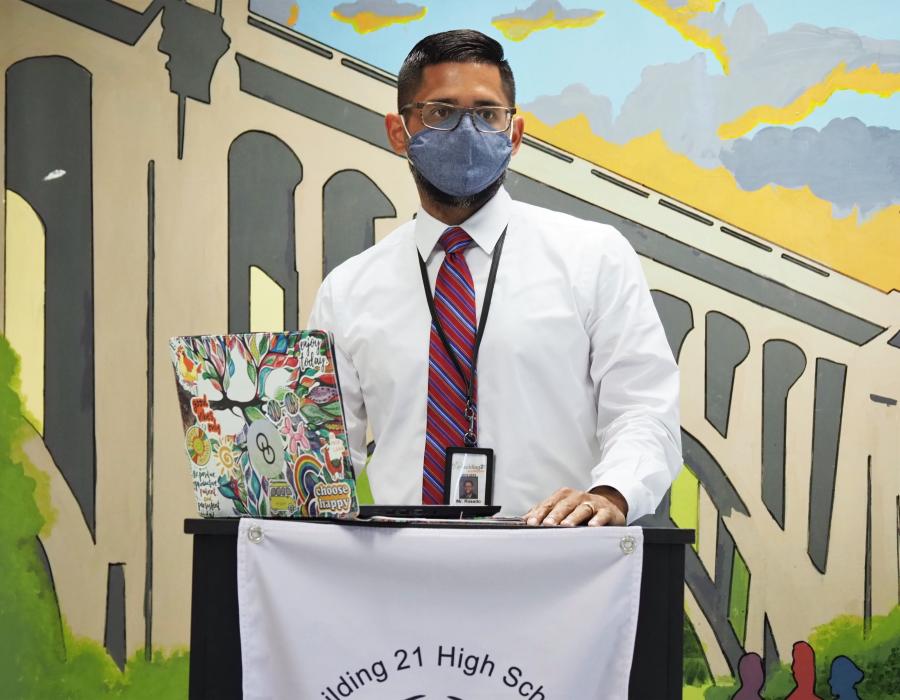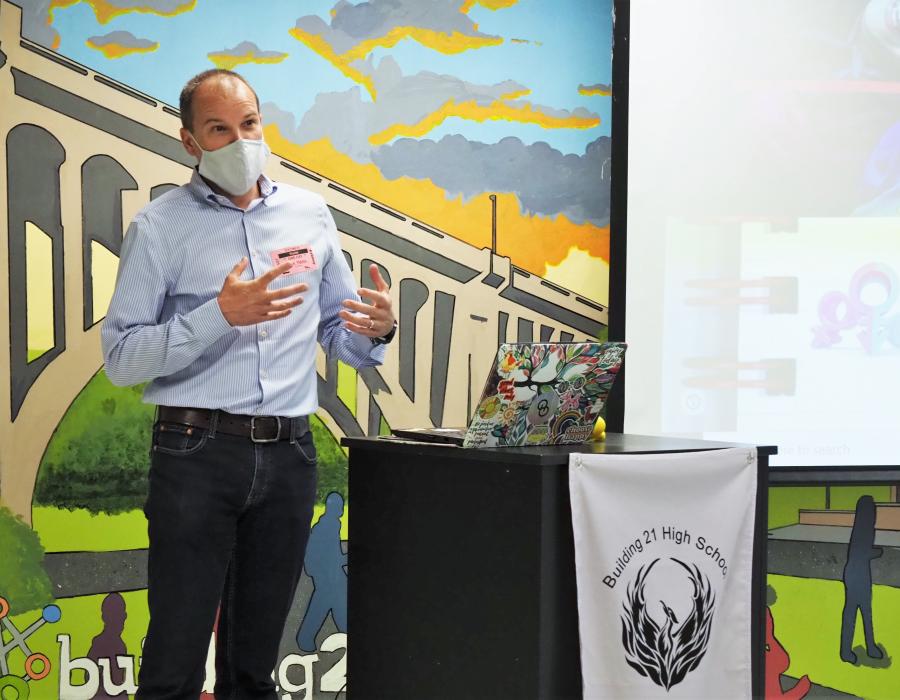 "The presentations by the students and their overall engagement in the program was greatly influenced by all of your efforts," stated Adrian Marsh, Olympus' Head of Corporate, to contributing employees. "It was a strong reflection of our core values, and even more rewarding given that this was an initiative originating from this team and the Emerging Professionals CAN – you should all feel proud of your contribution and leadership."

With the success of the Building 21 presentations and the relationship built by CIS and Olympus, they hope to continue their work together in the future, whether that is virtually or in person. The determination to build this program and the success that came of it showed that even during a global pandemic, the power of community and education persists.