The Olympus Grants Program: Ready for Impact
Supporting medical education so that tomorrow's healthcare professionals (HCPs) train on the latest technologies can be rewarding. Casting a wider net to include HCPs in organizations with limited resources in places like Latin America, well that's icing on the cake, according to Katherine Mann, Grants Manager, Medical & Scientific Affairs, at Olympus.

"Olympus is committed to partnerships that benefit healthcare professionals by contributing to education and providing support that empowers physicians to perform at their very best," said Katherine.

Two notable medical education grants within the last year include a $1 million+ monetary and product donation to the American College of Chest Physicians® (CHEST) simulation center. In addition, Olympus made a first-of-its kind donation in Latin America to Asociación Mexicana de Endoscopia Gastrointestina (AMEG), a non-profit GI medical society in Mexico—to support a hands-on endoscopic training laboratory. "These grants demonstrate that commitment to partner with qualified organizations across the Americas to ensure that HCPs receive the necessary training that can have an impact on patient care," Katherine explained.
Grants program overview
The Olympus Grants Program is currently open to independent medical education requests from third-party organizations across the Americas, and interested parties are invited to apply online. The committee meets monthly to review proposals for support of independent medical education programs, and at fiscal year-end for product donation requests.* The committee is composed of executives from Olympus who do not have a connection with sales or marketing to maintain independent medical education.
Improving patient care
One of the qualified third-party organizations that executes educational and patient care efforts aligned with Olympus is CHEST, an accredited medical society that supports education, training, and research in pulmonary, critical care, and sleep medicine.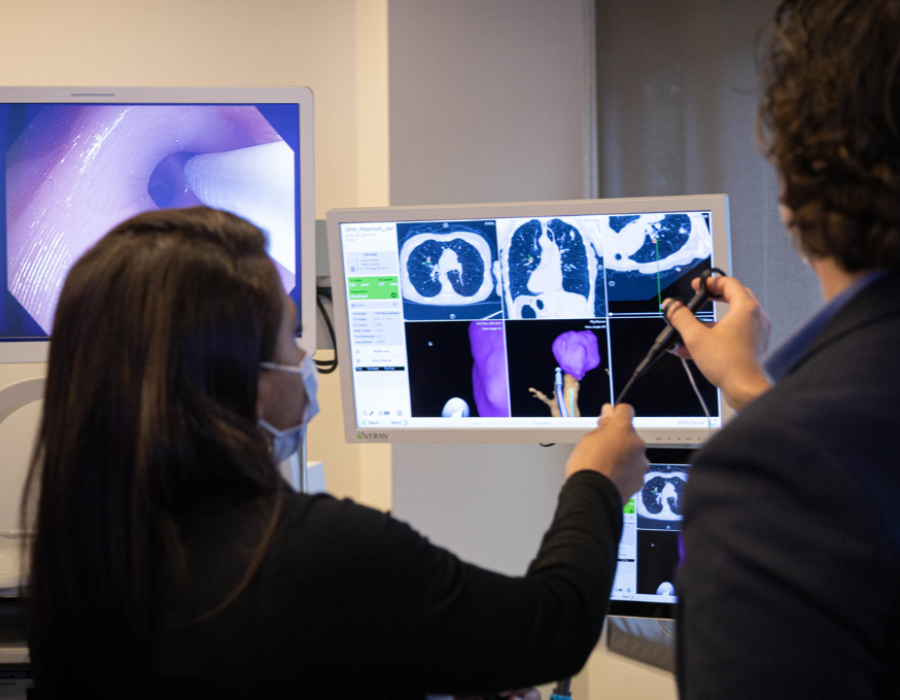 Clinicians use the SPiN Thoracic Navigation SystemTM to assist with locating nodules as part of the Advanced Diagnostic Bronchoscopy for Peripheral Nodules August course at the CHEST Simulation Center.
According to Katherine, the most recent FY22 donation from Olympus included monetary support of just under $35,000 to purchase educational models for training in both endobronchial ultrasound (EBUS) and radial EBUS simulation technology, and a product donation valued over $1 million that included the Olympus SPiN Thoracic Navigation SystemTM — diagnostic bronchoscopy planning and navigation technology — and accessories. CHEST provides in-depth medical training to hundreds of physicians every year ranging from early career to well-established providers and the donation was intended for these learners to have access to advanced technology as part of their education.
Olympus has a history of strategic partnership with CHEST. In 2013, Olympus committed $1 million over five years to support its Innovation and Simulation Center in Glenview, Ill., which opened in 2014. In 2017, Olympus approved a $3 million product donation that included ultrasound processors and radial probe driving units to support hands-on learning using updated equipment at the center. CHEST holds several different courses that provide medical training to nearly 250 learners annually. The 2022 donation supports a new course on diagnostic bronchoscopy for peripheral nodules.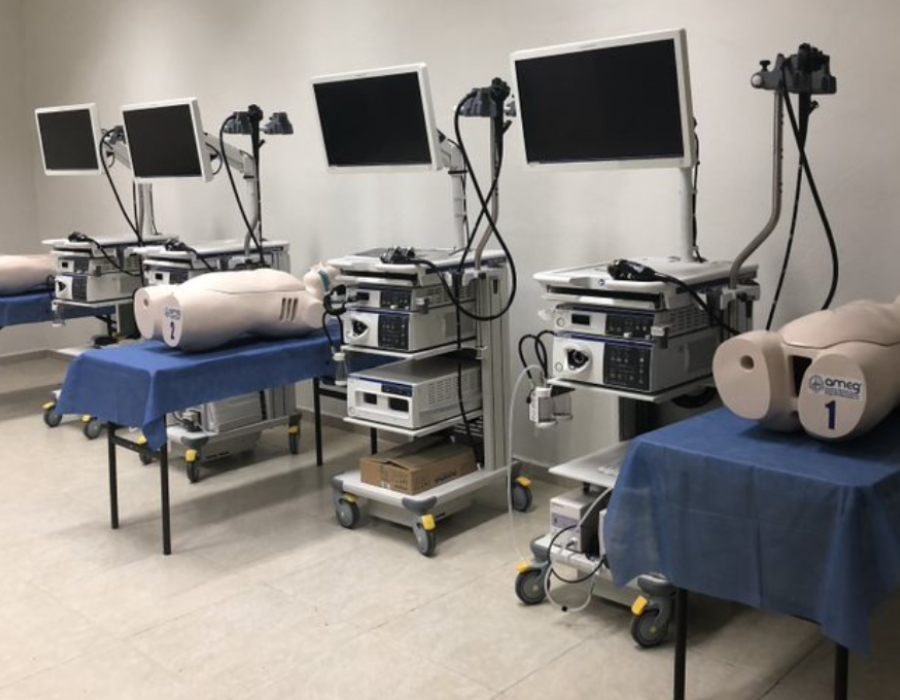 The ground floor of AMEG's Gastrointestinal Endoscopic Innovation and Training Laboratory includes a hands-on training area with four stations featuring Olympus endoscopy towers. The second-floor features auditorium-sized classrooms for courses.
GIs train in Mexico City
In Mexico, AMEG is a nonprofit medical society that connects medical professionals who have a common interest in digestive health. The organization has been in operation for more than 50 years. The $45,000 monetary grant and permanent product donation, announced by Olympus on August 30, 2021, fostered plans to enhance the Laboratorio de Innovación y Entrenamiento Endoscópico Gastrointestinal (LIEEG), or the Gastrointestinal Endoscopic Innovation and Training Laboratory. LIEEG now has a hands-on training area with four stations featuring Olympus endoscopy towers. The second-floor houses auditorium-sized classrooms for courses. The training center meets a need in a region where such resources are nonexistent. AMEG plans to use LIEEG to train students as well as practicing GIs in the region.

"It is definitely fulfilling to see a grant like the one made to AMEG finalized," remarked Katherine. "Resources are limited in Latin America and access to the latest technology is not always available for physicians to be able to train on. It is great to see that Olympus is bridging that gap by providing innovative technology for physicians to receive training necessary to develop the skills to provide quality care," she noted.
The training center opened in September 2021 and has offered four courses this year. A formal report of their progress is forthcoming.
Impact of medical education grants
In addition to the impact made through permanent product donations to society-operated training centers, the Grants Committee also considers support for independent medical education programs such as hands-on workshops, conferences, and symposiums. Through support of these programs, Olympus contributes to the education of HCPs throughout the year.

In FY22, the Olympus Grants Committee approved support of more than 250 medical education programs in the Americas, impacting over 300,000 learners.
"

These efforts aid in the advancement of equitable opportunities and ultimately contribute to achieving social change. It is truly an honor to work for a company that promotes these initiatives. "
---