Olympus Wears Purple with Pride in Support of Pancreatic Cancer Awareness
PanCAN's PurpleStride Event
Pancreatic cancer is known for its low 5-year survival rate of only 9% due to the frequent late-stage diagnosis.1 This is when treatment options become limited. However, when detected early, the survival rate may increase by six times – a significant improvement.1
On April 30, 2022, Olympus and many others had the opportunity to wear purple proudly in an effort to increase pancreatic cancer awareness at the PanCAN PurpleStride Philadelphia 2022 Event.
Olympus Corporation of the Americas was a sponsor of the event and hosted a table to show support and highlight medical equipment intended to help diagnose and manage pancreatic cancer.
PanCAN PurpleStride is a walk where pancreatic cancer survivors, families, caregivers, researchers and supporters unite to honor and raise money for anyone who has battled or is currently battling this disease.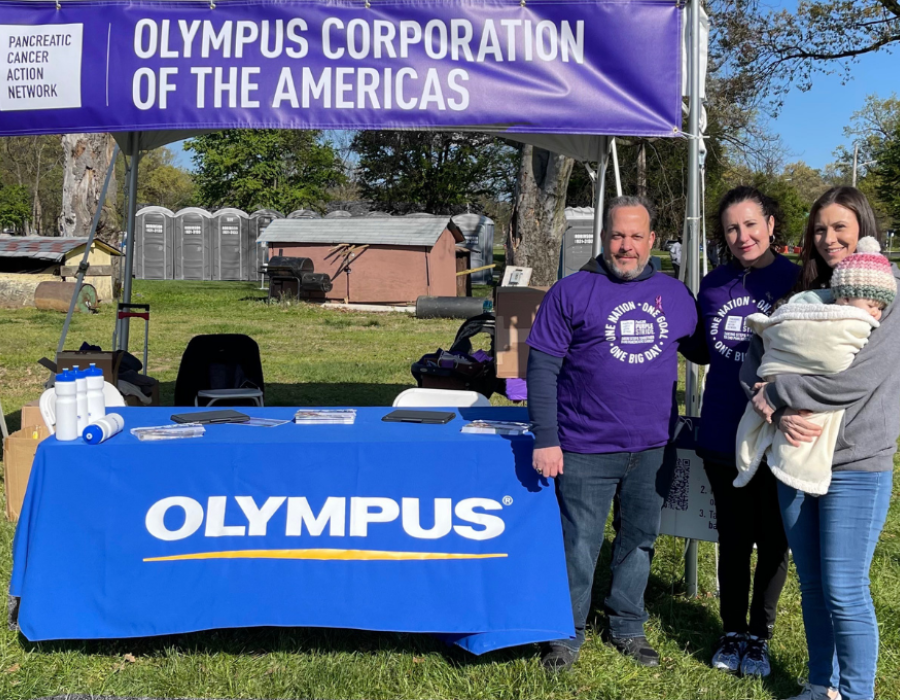 Olympus' Rich Burde and Alyssa Machain at this year's PanCAN event.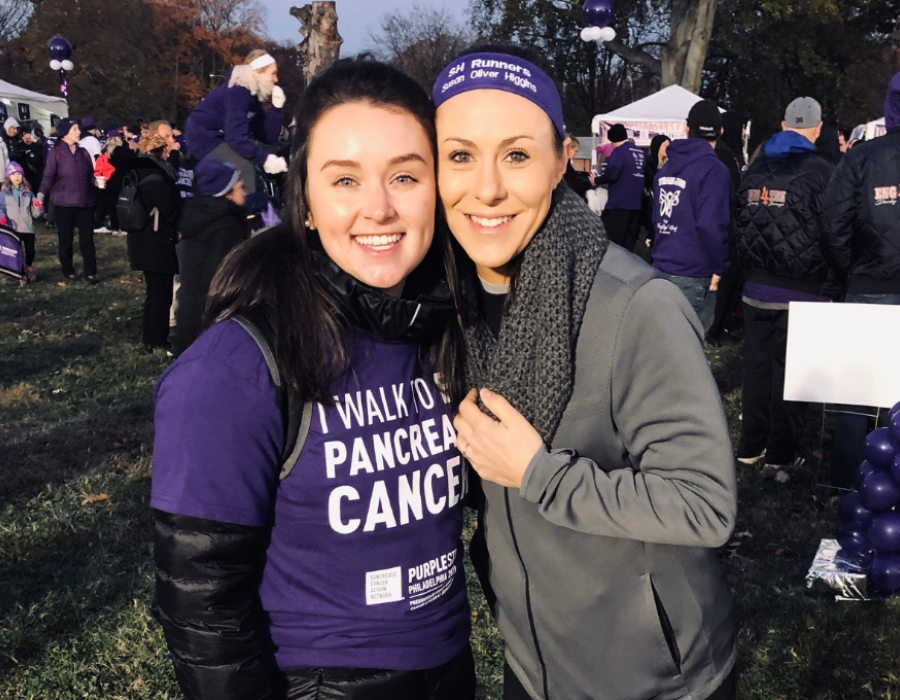 Olympus' Rachel Costolnick and Alyssa Machain.
This event was held at numerous locations across the country so that increased participation raised awareness nationwide. The funds raised from PurpleStride were split among various categories including scientific research, patient services, government advocacy, and community engagement – all to improve the lives of those impacted by pancreatic cancer.
As an advocate for pancreatic cancer awareness, Olympus understands the importance of an event like PurpleStride given that medical devices can support earlier detection of an often-fatal disease.2
Endoscopic Ultrasound (EUS) is a procedure that uses an endoscope with an ultrasound transducer at the tip, designed to help physicians see beyond the digestive tract to visualize all five wall layers including surrounding tissue and organs. EUS also enables the physician to assess tumors, determine if the cancer has spread, obtain a tissue biopsy and help treat symptoms of pancreatic cancer.2 Olympus is proud to manufacture and sell EUS processors, scopes and needles used to perform this procedure.
Nick Pifani, a current pancreatic cancer survivor and advocate, wished there had been more education available to the public before he started struggling with this disease. When Nick began experiencing severe abdominal pain, he was rushed to the hospital and tested for numerous conditions, but it was ultimately found that he had a mass at the head of his pancreas. After assessments of this mass by two world-renowned cancer facilities, he was diagnosed with a stage III inoperable tumor.
In a miraculous coincidence, one of Nick's family members received a diagnosis of pancreatic cancer just weeks prior to his diagnosis and was being treated by the same physician. With the realization of a family connection, the physician suggested genetic testing. The genetic test revealed that this type of tumor may respond to platinum-based chemotherapy. Nick immediately underwent this treatment until the tumor was small enough that it became operable.
Nick has since received a cancer-free diagnosis and is a very involved member in the Pancreatic Cancer Action Network that sponsors PurpleStride.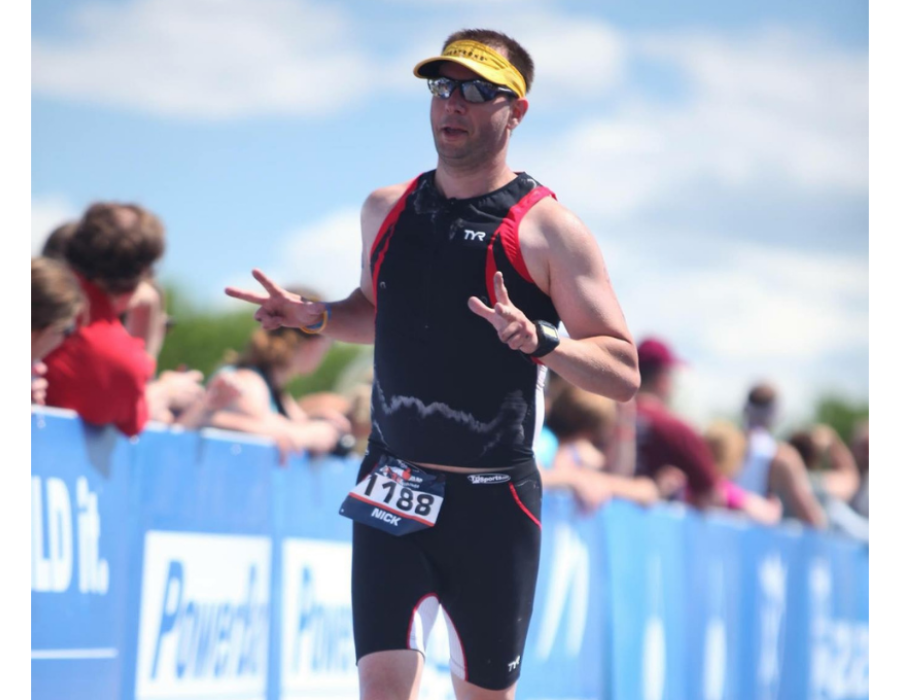 Nick Pifani running in an Ironman event.
Reflecting on his experiences, Nick shared, "I lost some family members to pancreatic cancer. I'm not just advocating for myself; I'm advocating for them. I promised myself, when I make it through, I'm going to volunteer and make a difference. I make it a point to tell my story, because even if one person hears it and it helps them, that makes a difference."
Stories like Nick's and many others inspire Olympus to get involved in events like PurpleStride to support efforts toward early detection and treatment of pancreatic cancer.
---
Visit Olympus' resource webpage dedicated to pancreatic cancer statistics and early screening advocacy. The goal of this site is to raise awareness about pancreatic cancer and the role of EUS while educating the importance of screening high-risk patients.