Tour de Tush Charity Ride Goes National in 2021
The Tour de Tush charity bike ride has evolved since the ride was started seven years ago by cancer survivor Gale Fritsche to raise colorectal cancer awareness and save lives. Held in the Lehigh Valley of Pennsylvania, the first Tour de Tush drew 150 riders and raised almost $30,000, and since then, the bike ride has almost quadrupled in reach and impact. This year, Tour de Tush meets another milestone by going national to support local programs and services nationwide through the Colon Cancer Coalition (CCC) network. 
The ride was born when Fritsche was declared cancer free following a grueling regime of chemotherapy that caused him to lose more than 30 pounds. Fritsche said he felt good when he went for his first colonoscopy at age 50. He had had very few health problems in his life. He was an avid runner and biker, had never smoked and had no signs or symptoms that might indicate something was wrong. Upon waking up from his colonoscopy, he was shocked to hear his doctor say that he had to go for further treatment. Fritsche soon learned he had Stage 3 colorectal cancer.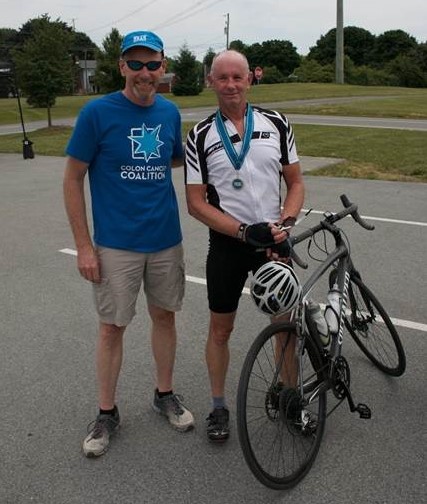 In doing his research, Fritsche realized how little talk there was about colorectal cancer, the second leading cause of cancer deaths in the United States for men and women combined.  Many young people were being diagnosed as Stage 4 even before showing symptoms. Based on his own experience, Fritsche realized that he needed to find a way to help more people get screened and started his own awareness-building bike ride through a nonprofit he established with help of local organizations and the Colon Cancer Coalition. In 2014, he kicked off the very first Tour de Tush, which has spread awareness and raised funds to fight colon cancer within the Lehigh Valley. 
By bringing different sponsors such as the Lehigh Valley Health Network (LVHN) and St. Luke's, Fritsche has been able to help fund and reduce the cost of colonoscopies.  In addition, he has been able to help St. Luke's collect gift cards from local restaurants to give to cancer patients. 
When initially looking for sponsors, Fritsche pitched his idea to Olympus, which has its corporate headquarters in Lehigh Valley, PA. In that first year, Olympus became the presenting sponsor for the Tour De Tush, committing $10,000 and encouraging employees to hop on their bikes and ride to raise awareness. Since then, Olympus has continued to be a sponsor of the ride, which has grown in numbers of donations and participants. 
The Tour de Tush's mission of raising awareness for this preventable, detectable, and treatable disease was shown true when a participant in the 2015 ride was inspired to schedule his first screening. Shortly after his colonoscopy, he was diagnosed with stage 2 colon cancer, evidence that increased awareness and education around this topic driven by Fritsche and the Colon Cancer Coalition is helping save lives. 
Although Fritsche is getting close to his retirement, he still plans to remain active with Tour de Tush and is proud to see his vision on a national platform this year.
Join Gale on his journey to raise awareness and funds to eradicate colon cancer!