A Look Into the New Olympus Westborough Facility
Accommodating for Collaboration During COVID-19
Since March of 2019, a new Olympus facility in the Greater Boston, Massachusetts area has been in development. Starting with site selection, in Westborough, MA, through building construction to interior design, progress was steady and the project team was as much as two months ahead of schedule. And then, COVID-19 shook the world and changed everyone's plans. Except for the Olympus Westborough project team…
Breaking Down Barriers
Prior to the new facility in Westborough, Olympus' presence in Massachusetts was disjointed and disconnected. Sprawling across three separate office buildings in two different locations - Southborough and Littleton, MA - employees experienced difficulty collaborating in a space divided by high-walled cubes and closed-door offices. A lack of meeting spaces and teamwork areas in both facilities only compounded the problem. These facilities housed sales and marketing employees, as well as R&D employees - two fields that absolutely need collaboration.
The new Westborough facility, from the beginning, was designed to break down barriers and allow for easy collaboration by providing a wide variety of meeting spaces unlike anywhere else in the Olympus portfolio.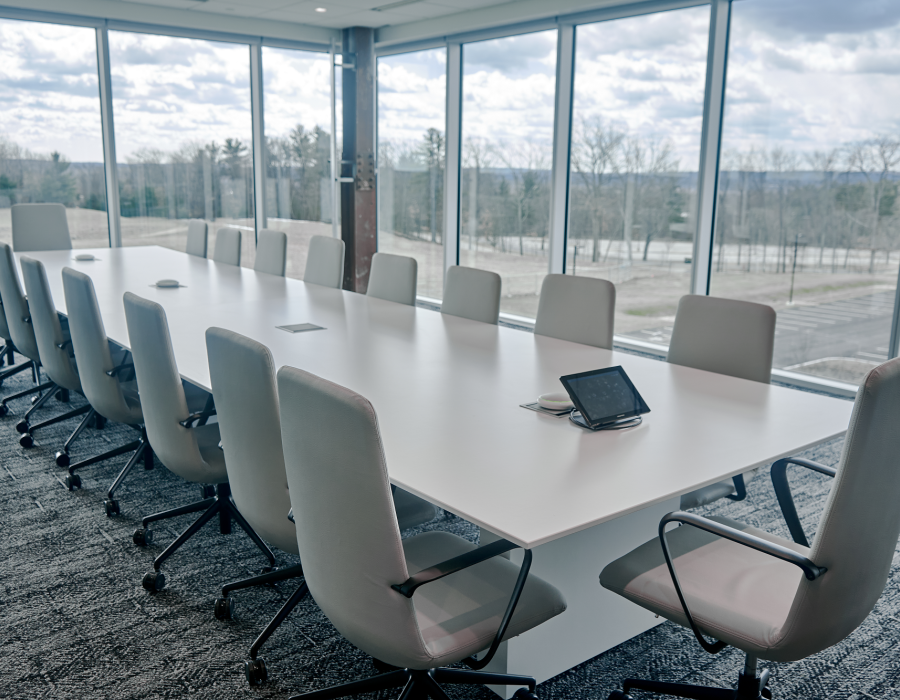 So with the impact of COVID-19 - mandated social distancing and PPE requirements, intensified cleaning procedures, and Olympus' immediate work from home order - the question became: how would the building plan change to preserve increased collaboration while accommodating these new challenges?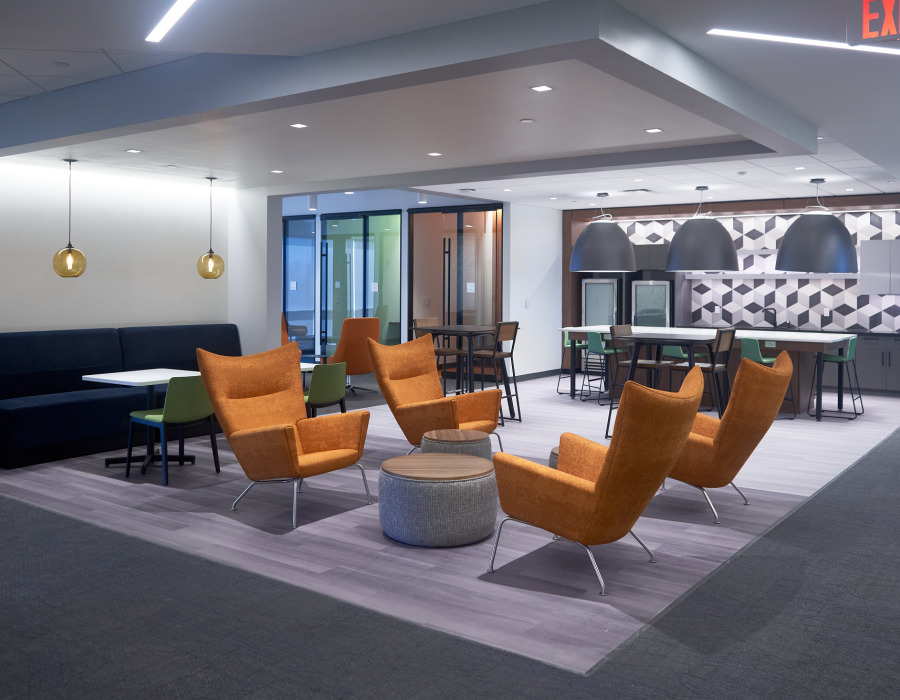 Taking the Long-Term View
The answer is… not as much as you might expect. As it turns out, the steering committee and project team had agreed that there would be significant changes in how Olympus employees worked within the new facility, even before the global pandemic.
While COVID-19 required some design modifications, long-term view thinking kept the vision of Olympus' presence in Westborough back in perspective. The project team made modifications for the pandemic and beyond - knowing that, Olympus would still be operating, and collaborating in the Westborough facility for at least the next twenty years. The next question for the project team - what is our long-term view for this facility and what will that look like?
Embracing Collaboration
After reflection, the project team decided that - when Olympus employees return to the office - the original vision and design concepts were still ultimately aligned with the strategic vision for the business. Embracing collaboration, employees will primarily come into the office to collaborate in a safe and spacious environment, with options for distanced focus work in a variety of ways.
While the building layout didn't change much, many COVID-safe measures were implemented. Specifically, workstations - all sit/stand desks - now have extended barriers attached to the desktop, so if a person decides to stand while working, that barrier will rise up with the rest of the desk. Additionally, rolling white boards at each workstation will act as a portable barrier between the back-to-back desks. If an employee's "cube buddy" isn't in the office, that white board can be rolled away to create more space for that person. However, should both employees be in the office, the white board will be the barrier that ensures six feet of separation.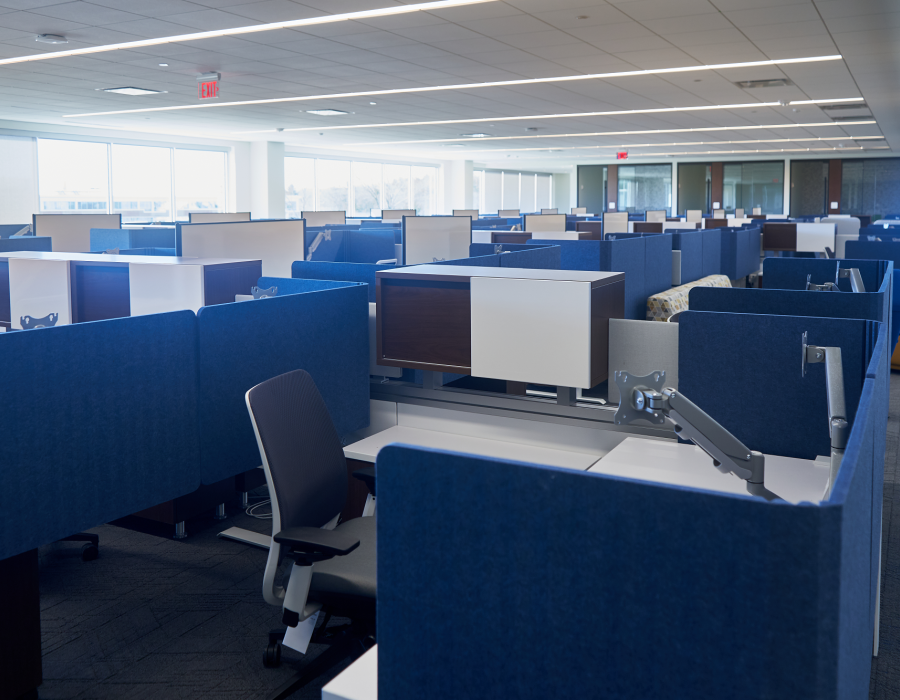 Even the furniture material was taken into consideration - now, the materials for the desks and partitions can withstand the increased cleaning protocols and stand up to the cleaning products, as well. Additionally, the material used for the partitions pivoted to a composite material that can accommodate the high level of cleaning while still meeting the acoustical needs of a more open floor plan.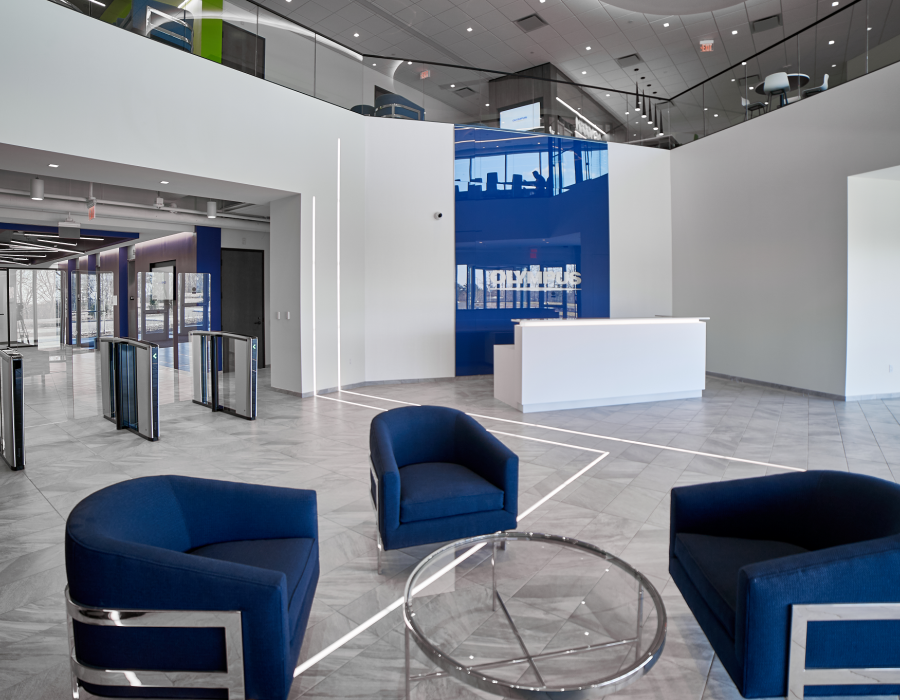 Necessary Mitigation
Operationally, significant mitigation procedures have been established to limit people's contact and therefore the spread of COVID-19. Every employee is already required to scan their badge to enter the facility. However, now the doors will open automatically upon scanning, ensuring a touch-less entry.
In the main lobby, employees and all visitors will undergo a temperature check at a built-in kiosk with a COVID-19 questionnaire that they will also be required to fill out. In order to enter the building, each person will be required to wear a proximity sensor that tracks who employees are around and for how long, and that beeps if two employees are within six feet of each other.
The main goal of the operational changes was to eliminate as many high frequency touchpoints as possible - for example, all faucets, soap, and paper towels in the bathrooms are all sensored and touch-free, and hand sanitizer dispensers will be positioned at any unavoidable touchpoint.
Our Positive Outlook
It may seem like COVID-19 has eliminated the need for physical office buildings, and while that may be true for some companies, it isn't true for Olympus, where the need for an office isn't going away. With flexible work arrangements, it is likely that some employees may have an adjusted schedule - for example, they may return to the office for one to two days a week and work from home the rest.
With varied workspaces for employees, especially in Westborough, Olympus is prepared for whatever the future holds for returning to work in-person. In adapting to new challenges caused by COVID-19, the Westborough project team truly saw this as a learning experience for understanding why people go into the office, and what makes working side-by-side with colleagues a different, and very valuable experience, compared to working virtually.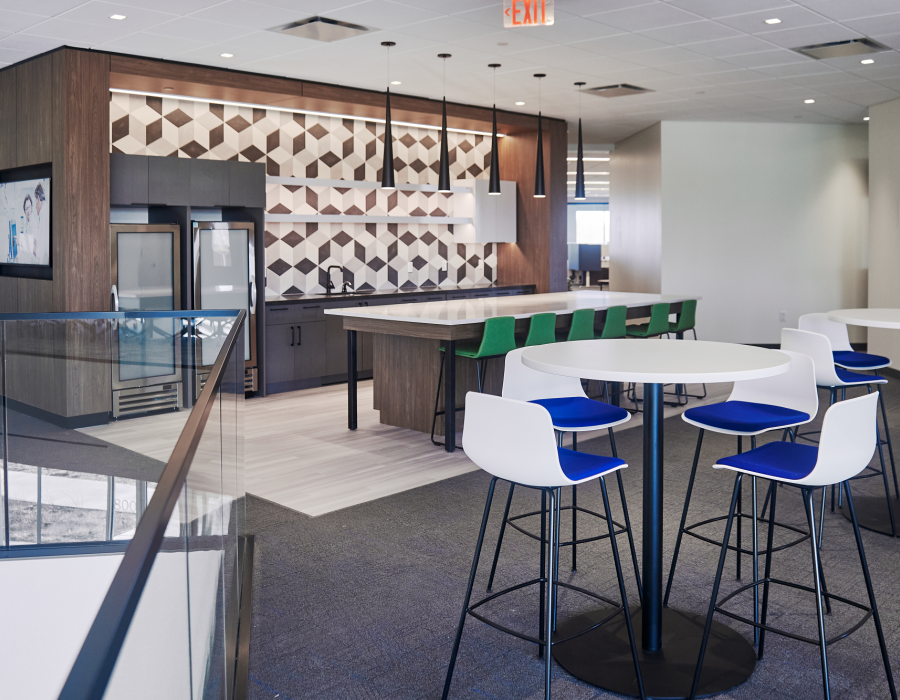 As we explore the future of work, there is hope and a positive outlook for when people do come back to the office. Although it may seem like a long-term view, the possibility of working in-person with our colleagues is feeling closer than ever. And once we reach that point, Olympus Westborough facility will be the icing on the proverbial cake.