Mark and Tim Crafts Conquer Cancer Journey: They Keep Rollin'!
"Can I still ride my bike?" was the first question Mark Crafts asked his doctor after his cancer initial diagnosis, and it's a bit of a wonder that 3 years after the grim diagnosis of Stage IV colorectal and liver cancer, many difficult surgeries and 1,000+ hours of chemo, Mark is still pedaling the byways of the Bay Area. His medical team at University of California San Francisco call him "a miracle and the future of medicine."
As soon as he had grasped the news of his diagnosis, Mark, a technology manager at Salesforce.com, called his brother Tim, Area Vice President for Enterprise Solutions at Olympus America Inc. Because of his experience working in a healthcare-related field, Tim was able to get a quick read on the situation and assure Mark that his prognosis and treatment plan were sound. Soon thereafter, Tim was on a plane to San Francisco where he stood by Mark's wife while Mark underwent his first of many surgeries. Having recently lost their mother to cancer, the brothers were determined to fight the disease.
Mark attributes his ability to sustain the assault of surgery and chemotherapy to keeping a positive attitude and a sense of humor and staying engaged in all the things he loves. He has stayed on his bike by adapting to his new health reality, trading his road bike for an electric bicycle. And despite having undergone many surgeries, Mark still manages a joke about his treatment, saying, "I've left more important body parts in San Francisco than Tony Bennett." 
Mark also has stayed positive by embracing his cancer journey. During his first meeting with his oncologist, which Mark describes as being surreal, he noticed the doctor wearing a small lapel that read "Conquer." Mark stopped their meeting to ask about its meaning… and his affiliation involvement with Conquer Cancer at the ASCO Foundation began. The idea of conquering cancer was a light for Mark on an otherwise very dark day. He held on to that idea and focused his determination on not only conquering cancer for himself but also helping others do the same, and he has been raising funds and helping build awareness of colorectal cancer ever since. For Conquer Cancer, his fundraising groups, Team Crafty and Salesforce Ohana, have raised more than $50,000.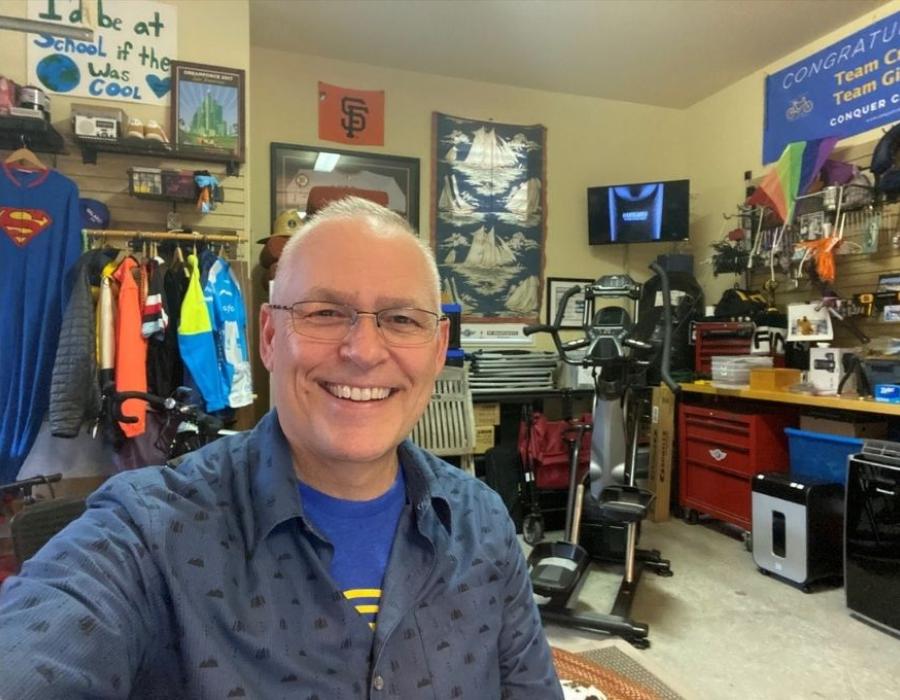 Being that his cancer was discovered after it had already spread, Mark isn't fully out of the woods yet. He remains in active chemotherapy treatments (42 rounds and counting!) and is preparing to enter a new, promising Immuno-Oncology clinical trial. But he's fully committed to staying on his bike and helping conquer cancer. His latest goal is a 3,000-mile bicycle fundraising challenge to support worldwide cancer research. Mark and Tim invite everyone to join them in this effort.
Follow Mark's journey on his Team Crafty Conquers Cancer blog.