Changing Cancer Treatment at the Cellular Level
Redefining What's Possible With Precision Oncology
What if we told you that the future of medicine is a customized cancer treatment plan for each individual patient, based on their specific genetic, environmental, and lifestyle factors?
The USC-Olympus Innovation Partnership in Multiscale Bioimaging was conceived to do just that. This exciting partnership combines Olympus technology with the expertise of two renowned labs at USC, the Lawrence J. Ellison Institute for Transformative Medicine and the Translational Imaging Center (TIC).
But first, let's take a step back by explaining the overarching goal of this powerhouse partnership: precision medicine.
Precision Medicine Made Possible
According to the Precision Medicine Initiative at the U.S. National Institutes of Health, precision medicine is defined as, "an emerging approach for disease treatment and prevention that takes into account individual variability in genes, environment, and lifestyle for each person."
Precision medicine is positioned to replace the current "one-size-fits-all" approach in medicine today. With this advancement doctors and researchers will be able to more accurately determine which treatments and prevention strategies will work best for a particular disease within specific groups of people.
Precision oncology, an extension of precision medicine, will allow doctors to identify the best cancer treatment and prevention strategies for their individual patients. Knowing exactly when to start treatment and for how long, with the absolute best treatment plan, will optimize the patient's chance for success and potentially help them avoid unnecessary treatments.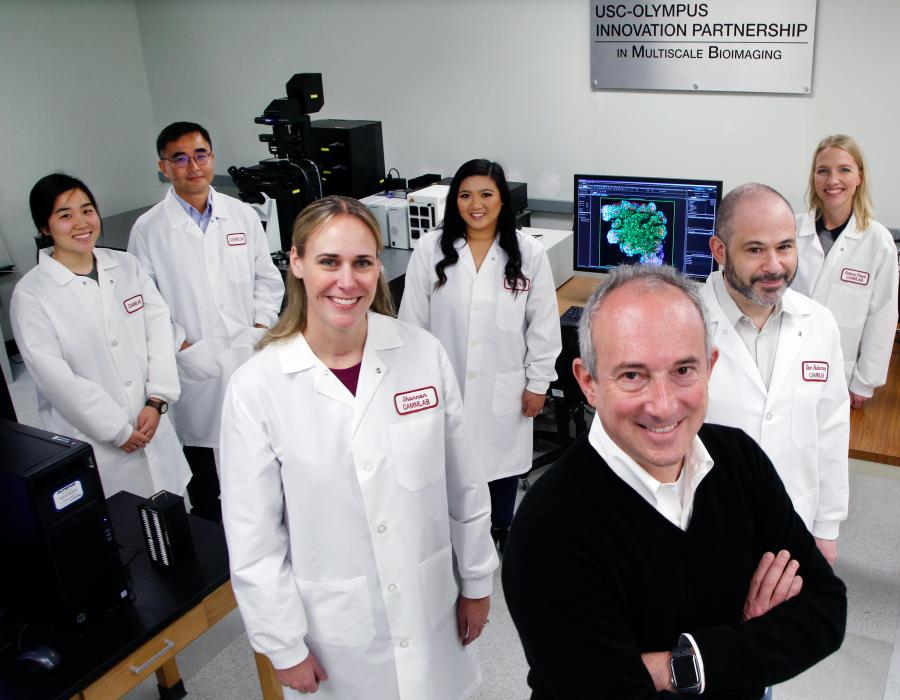 A Powerhouse Partnership
Led by two internationally recognized leaders – trailblazing oncologist and biomedical entrepreneur David Agus, M.D., and world-leading optical and imaging researcher Scott Fraser, Ph.D. – the USC-Olympus partnership is "redefining what's possible" through the development of new technologies to enable 3D and 4D imaging of single cells, organoids, and tumor ecosystems.
"Cancer medicine is at a crossroads. Genetic research has shown that hundreds of genes are involved, making it difficult to envision how genetic approaches and standard treatments will cure cancer. Because of this, USC and Olympus have assembled a powerful team of clinicians and imaging technologies to advance diagnostic capabilities toward precision medicine." ~ David Agus, M.D.
Through the study of cancer at the cellular level – how and why it grows and its impact on the body – and with the imaging technology to do so, Olympus and the team at the Ellison Institute are quite literally changing the way we treat cancer.
Our Part in Precision Medicine
As a global medical device company and leader in the life sciences space, Olympus provides a range of tools that assist in cancer diagnosis, analysis, and treatment. Cancer is a complex disease and rarely are tumors exactly alike. With our technologies, doctors and researchers have the ability to study cancer and the effectiveness of anti-cancer compounds for individual patients, a key element of precision medicine.

"

Olympus is honored to provide the optical tools used to capture the breadth of what's happening in patients and transforming cancer medicine. Our deep experience and capabilities in both microscopy and medical technology businesses position us to lead the charge in the fight against cancer. We are excited to partner in the co-development of technology with the hope of translating these innovations to healthier, safer, and more fulfilling lives for people around the world." ~ Julien Sauvagnargues, President of Olympus Corporation of Americas
To learn more about this exciting partnership: https://www.olympus-lifescience.com/en/usc-olympus-innovation-center/
To explore Olympus' cancer research solutions: https://www.olympus-lifescience.com/en/solutions/cancer-research/